MAD MIKIE'S GRAPHIC DESIGNS!
Mad Mikie is a REAL RACE FAN, far "More Than A Spectator!"
Check out Mike Kuver's creations... graphics he has created for Bubba Bear's charity campaigns... really nice work, if I say so myself!
Bubba Bear's RACC campaign
Bubba Bear's RACE AGAINST CHILDHOOD CANCER campaign is in its 2nd year of the program. Mad Mikie created this image of Bubba Bear for the RACC for 2004!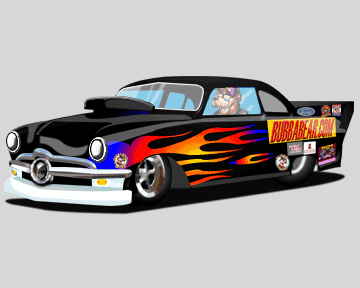 Bubba Bear's Racing Machine
Mad Mikie put Bubba Bear behind the wheel of the Glanville Motor Sports Inc. 1949 Ford Dragster! Woe... is Bubba Bear styling and profiling? You bet he is... cause he's racing for RACC, RADD and OAAS! Click on this image to find out more!
Introducing... MAD MIKIE KUVER
Here he is... the MADEST graphic creator on the planet EARTH! MIKE KUVER has become a wonderful friend of RACE FANS INC. / UNLIMITED through the contribution of his fantastic graphics of Bubba Bear and the charity related programs!
Check out more of Mad Mikie's work at www.laidbackracing.com ... and while you are there... be sure to read Mad Mikie's RANTS and RAVES!