The FANASAURUS:
The Fanasaurus adds excitement to any promotion!
Race fans love the Fanasaurus! FANA adds a special touch to every event he attends. Whether FANA is visiting children at a hospital, a day camp, or at the tracks...He always brings a smile to everyones face!
Your company can use The Fanasaurus around your marketing strategy!
Winston Cup Preview / Winston Salem, NC - 01/16/2002.
The FANASAURUS considered lucky charm for drivers.
The Fanasaurus first appeared on the pit road at Charlotte Motorspeedway in May of 1993. Then BGN Driver, Michael Waltrip grabbed The Fanasaurus and rubbed his checkered tail for good luck before the start of the race. Waltrip went on to win the race and thus the lucky charm was born!
The Fanasaurus has participated in the parade laps before racing events at Charlotte Motor Speedway, Bristol Speedway and several local tracks around North Carolina.
Join the FANASAURUS FAN CLUB!
The Fanasaurus shouts, "Race fans are the best fans!", every where he goes. Now, you can prove that to The Fanasaurus by joining his FAN CLUB!
Membership is FREE!
Just email The Fanasaurus by clicking on the link below to become a member of The FANASAURUS FAN CLUB!
The Fanasaurus will reply to every member that joins.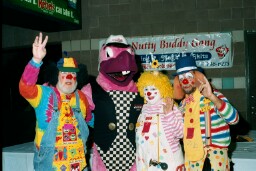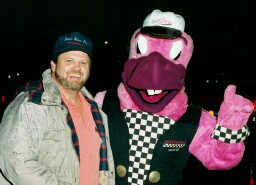 The Fanasaurus with his new friends... The Nutty Buddy Gang!
Charitable events are one of Fanasaurus's favorite pass-times!
Contact Benny Sims about scheduling The Fanasaurus for your promotion or event!
President, Benny Sims and The Fanasaurus have made lots of friends over the years.
The Fanasaurus loves his racing buddies!
The Fanasaurus makes appearances for Fan Club Members! For more information, contact Benny Sims.